October 18, 2016
Can we use our IT giants to help our courts?
Last week, the Supreme Court confirmed the sentence on Vikas Yadav and other accused in the Nitish Kataria murder case, nearly 15 years after Kataria's death. Unfortunately, this was not an exceptional case in terms of time taken.
We know that the slow speed of justice system impacts crucial issues such as women's safety, corruption (see graphic) and black money in addition to many others. And yet, when it comes to solutions, most of the discussions in the media focus on the low judge to population ratio.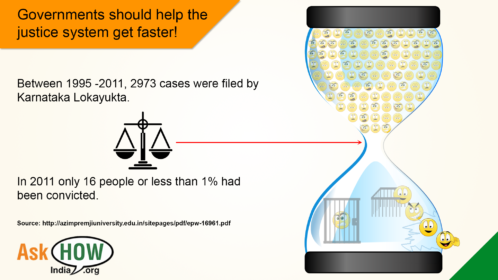 We covered this issue in AskHow a while back and made many suggestions such as limiting the number of adjournments and making procedural changes to bottleneck laws. However, if there is one thing that frustrates me, it is not using Information technology effectively.
It is not easy to gauge the current state of computerization in our courts but some recent findings can be found here and here. I do think however, that it is ludicrous that the Supreme Court had to make the followings observations in late 2012,
"If E-tickets of Railways can be booked in one part of the country and print generated in any other part of the country, generating information of statistics relating to Judiciary may not be difficult."
"Data is not based on performance standards – thus, in the absence of time tables or data systems that will track individual cases against established time standards, there is in fact no scientific data on delays in courts today. "
And most damningly,
"Number of available Court Buildings, Court Halls and other infrastructural facilities have not been described clearly. In the absence of correct statistics regarding the number of Court Halls available, transfers and postings effected by the High Courts, have, at times, created piquant situations. Instances have come to fore that number of Judicial Officers posted at a place could not function for want of Court Halls; also, conversely at other places vis-à-vis number of Judicial Officers posted, the number of pending matters were negligible."
Our IT giants Infosys, TCS, etc. are under growth pressure. Can the country give them the task of setting up a world class IT infrastructure for the justice system in the next three years?
Updated, October 24, 2016: Links added for current status of IT in courts.
Add comment